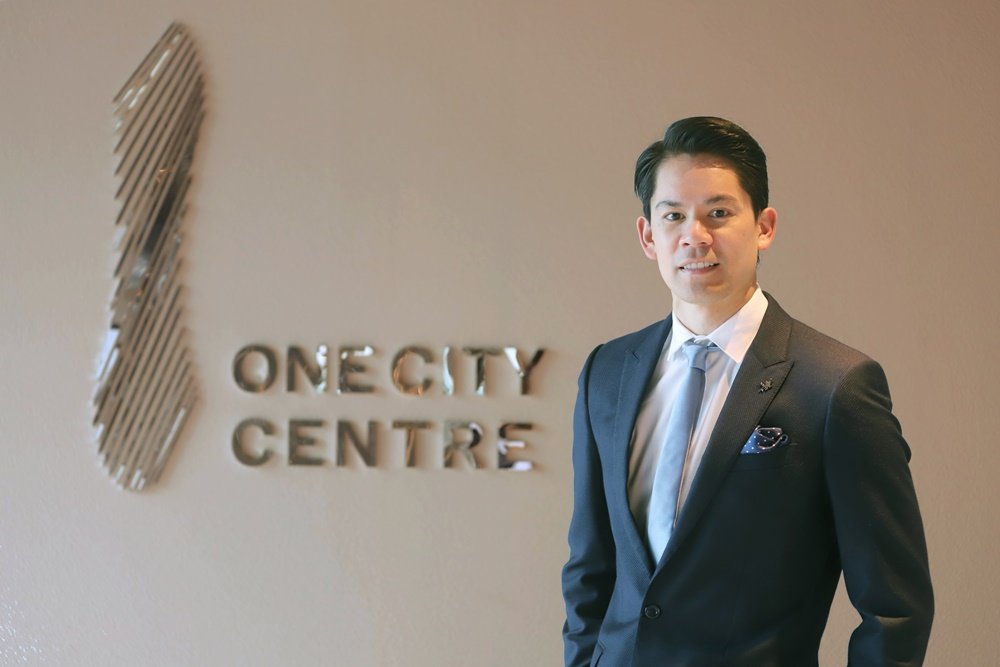 SET-listed developer Raimon Land PLC will focus on luxury upto super luxury property development and new economy businesses, planning to open a new grade A office building, One City Centre, at the heart of Ploenchit District in the first half of 2023.
Chief Executive Officer Korn Narongdej says the company has shifted property development business to focus only on luxury and super luxury segments.
"After studying the company's strength, we found that Raimon Land has always been perceived as a Thailand's leading developer of luxury and super-luxury real estate," says Mr Korn, CEO of Raimon Land who joined the company two years ago.
"We are the market leader in the luxury segment of residential units priced at 10 million baht and above, so we want to maintain this brand positioning."
From now on, 80% of the company's residential development will be branded residences as demand is growing with many luxury property buyers willing to pay a premium for this type of product.
"Our first branded residence project is Rosewood Residences Kamala valued approximately at 7 billion baht," he says. "Both Phuket and Bangkok where we will focus on are world class destinations which attract a lot of foreign property buyers, particularly in the luxury segment."
Raimon Land is also eyeing new economy businesses to tap into. One of them is a data center as it is the infrastructure of the new economy and demand from cloud consumption and e-commerce continues to grow.
In May 2022, the company announced its strategic partnership with US-based Nautilus Data Technologies to jointly promote environmentally innovative, water-cooled data center in Thailand as well as other key regional locations such as the Philippines.
"The cooling system reduces energy costs and eliminates water consumption, wastewater production, and harmful refrigerant," he says. "This partnership will allow us to provide sustainable, world-class data center infrastructure and services in Thailand."
The company's first data center project will start its development early next year.
"The recurring income from the project can help support our revenue which fluctuated as we usually spent three to five years to complete a development of a condominium project," he says. "Next year, we will have another source of recurring income from One City Centre."
Aimed to be a new heart of Ploenchit, One City Centre (OCC) is a grade A office building, developed under the cooperation of Raimon Land and Mitsubishi Estate Group, one of Japan's largest developers. OCC was designed by world-class design consultancy Skidmore, Owings & Merril (Thailand) Co., Ltd. (SOM), the team behind the design success of Dubai's Burj Khalifa.
OCC has reimagined the world of office space with elements conducive to a productive working environment. It has been awarded the 2-star Fitwel rating from the U.S.-based Center for Active Design (CfAD) for its outstanding building development to promote health and wellness through the built environment for well-being of tenants and visitors.
It also has an occupant experience application, visitor management system, parking payment system, licence plate recognition system and turnstile with touchless access control.
To promote energy efficiency, it applies efficient LED lighting and automation control, west core facade shaded to optimised solar heat reduction and full-height glazed facade shaded by diagonal external shading finds to reduce overall solar loads at other sides of the building.
Located on a six-rai plot opposite to Central Embassy on Ploenchit Road with a direct access skywalk to Ploenchit BTS station, OCC reserves three rai as green area as it aims to be Bangkok's new landmark and the new lung of Ploenchit district.
"Ploenchit is a prime location in the central business district," he says. "Once completed, OCC will be the tallest building in this location and the tallest office-alone tower in Thailand."
It has 61 storeys with a total lettable area of approximately 61,000 square metre and 3-metre ceiling height. It can accommodate up to 879 cars and is fitted with EV charging bays.
With 17-metre deep column free design, floor planning is flexible with an office floor plate of approximately 1,300 sq m. per floor.
Currently, 35-40% of the space is pre-leased by 15 companies, most of which are international firms and majority are financial institutions. Rental rate is 1,500 baht per sqm per month on average.
One of the 15 early tenants is the company which will relocate in April 2023 to use approximately 2,500 sq.m. space on the 37th - 38th floor, being designed to promote talents with features comprising hot desks, recreation area and amenities for our tenant and visitor .
"We target international companies," he says. "Despite the work-from-home trend and staff reduction, office space demand from them is the same because they need social distancing."
From November to December 2022, the company will sign a contract with a Michelin guide listed restaurant which will open its bar and restaurant on a space of 2,000 sq m on the 61st floor and the building's rooftop with 360-degree city view.
"The rooftop bar and restaurant will be Bangkok's newest destination restaurant and bar for all travellers without doubt" he says. "OCC will not only be the work place but where they can unwind and enjoy the green and retail spaces."
Source : Bangkok Post (Link https://www.bangkokpost.com/property/2448720/raimon-land-aims-to-retain-its-reign)