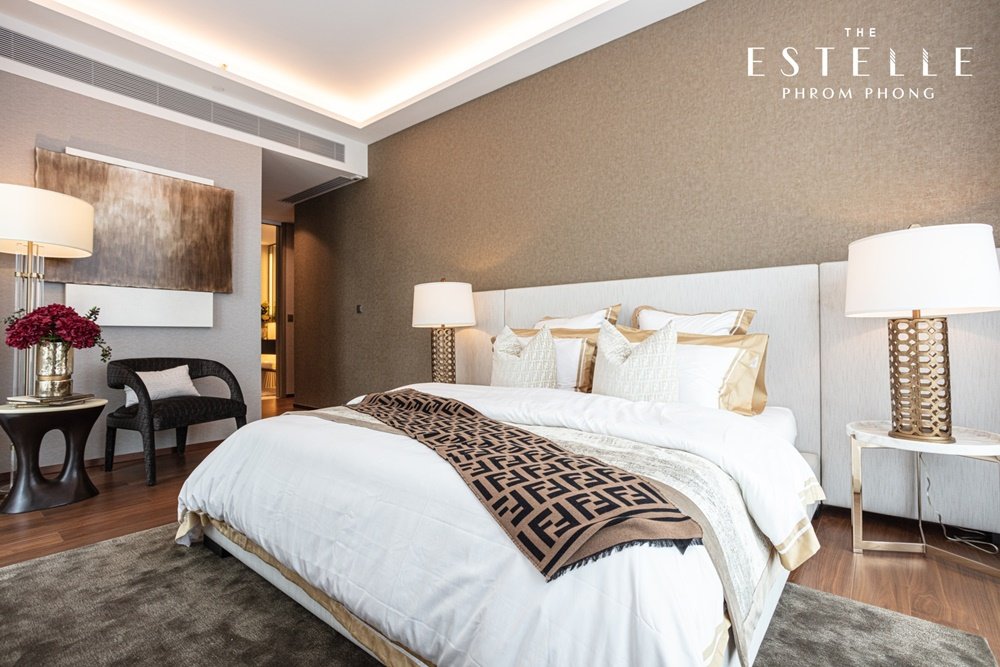 Conceived by leading Thailand's leading developer of luxury and super-luxury real estate. Raimon Land in a joint venture with Tokyo Tatemono - a highly experienced Japanese developer - The Estelle Phrom Phong is a high-rise, ultra-luxury condominium that offers much more than a prime location in Sukhumvit Soi 26. Here, residents are ensconced in luxury with superlative services and facilities; an oasis of peace and serenity that's far removed from the hustle and bustle of the city. Yet, you are in the very heart of it.
Consisting of 146 spacious units with one-bedroom, two-bedroom, three-bedroom and Penthouse configurations. Currently available only one and two-bedroom type. The Estelle Phrom Phong is set apart by its unique design and luxurious facilities and services that offer an exclusive lifestyle- meeting the aspirations of the most discerning.
Location is key when buying real estate, anyone will tell you, whether it's for your own personal use or as an investment. With an enviable location in close proximity to world-class shopping malls, luxury hotels, a key own living of dining options offering culinary experience from all over the globe, international and local schools, easy access to Expressways, only 200 meters from Phrom Phong BTS Station and The Emporium Department Store. Also nearby is the lush Benjasiri Park, offering a green escape to relax, unwind, or enjoy some jogging. It's little wonder then that this particular area of Bangkok is so highly sought after by Thais, foreigners living abroad, and expats alike.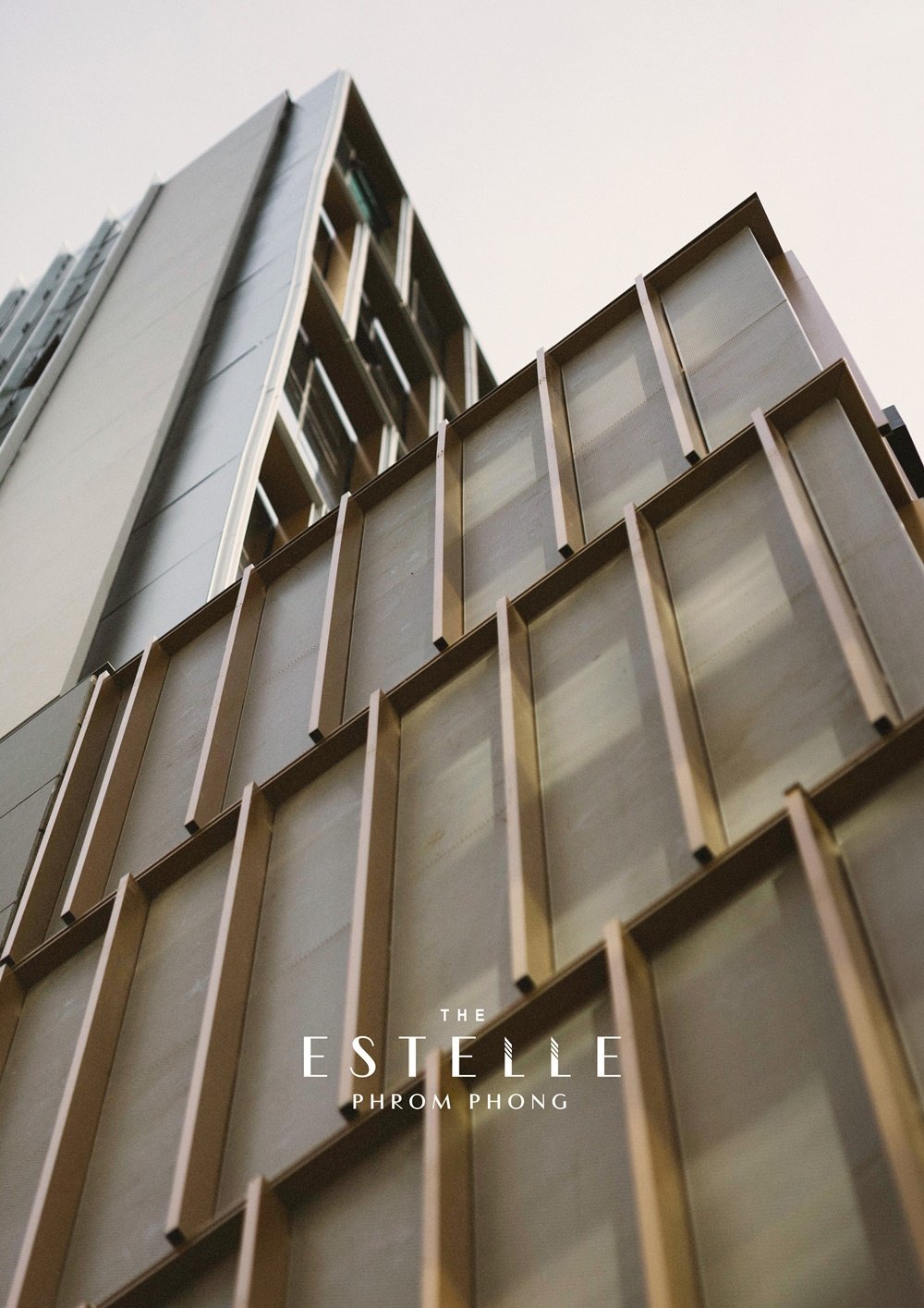 For the iconic architectural and interior design - inspired by a luxury Zen philosophy - renowned Singaporean-based SCDA were used as the design consultants. On entering the lobby, one is greeted by a bonsai tree and a small stream, the former representing auspiciousness and prestige in Japanese culture, while the latter is an important principle of feng shui. This makes for a lobby that oozes welcoming warmth, coziness, and calm - a true escape from the madness of the city.
Another highlight for residents awaits on the eighth floor, a common area, with a Zen garden that's also Japanese-inspired. Great care has been taken with the use of the space, the placement of every object, and materials used. The granite rock covered with white pebbles that are sprinkled around symbolizes a river with waves. Also scattered around are various trees that provide a breezy and shady feel. A Japanese grill has been installed in this area, with a design inspired by a bamboo pattern at the famous Arashiyama Bamboo Grove in Kyoto. Together, the design elements symbolize strength, but also tenderness.
A Japanese Spa & Onsen, with separated hot- and cold-water facilities for ladies and gentlemen, also take its cue from traditional design elements. Additionally, a salt-water floatation pool and sauna offer wellness remedies to destress, to rid your body of toxins - all of which are also beneficial for the skin.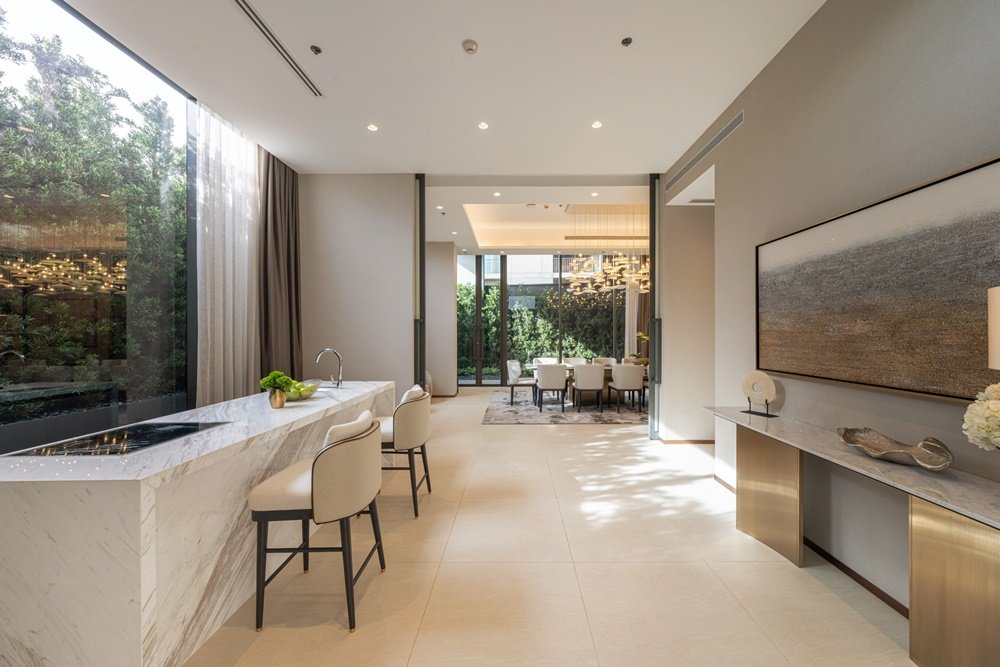 Additionally, the swimming pool and children's pool uses a non-chlorine filtration system, while the entire development is also pet-friendly offering pet lawn and wash station. Rounding off the facilities on the 8th floor is a private dining room which can be used by residents for entertainment and event purposes. A fully fitted kitchen and pantry area means you can invite your favorite chef to cater for a special occasion.
Fitness enthusiasts are well catered with a Sky Gym on the 27th floor, fitted out with the latest, hi-tech equipment from Italian brand TechnoGym, including a limited edition TechnoGym X Dior unique pieces combining exercise and style. Further complementing this area is a platform with panoramic city views.
The superlative facilities continue with 125% of conventional car parking spaces. A very unique aspect is an entire, column-less floor dedicated to supercar parking, replete with electric point provision for electric vehicles. The parking floor boasts a gleaming epoxy-coated floor with beautiful lighting, similar to the aesthetics of a luxury car showroom.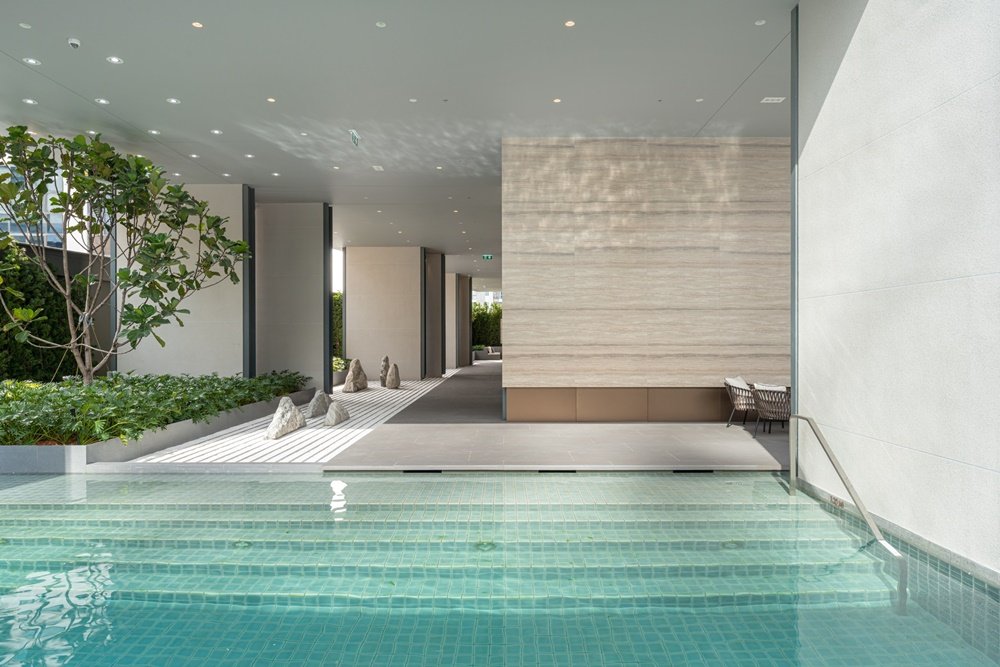 The thoughtful, customer-centric design and facilities throughout are further complemented by top-notch services that are raising the bar in Bangkok. A guest suite - similar to a hotel room - is available for overnight stays of residents' visitors, and a Mercedes-Benz S-Class limousine service is available from 7am until 8pm for the use of all residents (owners or renters), free of charge covering a 10km radius. Condo owners may also use this service complimentary to either Suvarnabhumi or Don Muang drop-off 2 times per unit per year.
A 24-hour concierge desk is at the beck and call of residents, available to do anything from securing restaurant reservations to booking plane tickets.
At the core of The Estelle Phrom Phong lies a philosophy that's based on three pillars: A 'Sense of Security' provides peace of mind, knowing all your needs are taken care of in a safe and secure environment; a 'Sense of Community' puts you in the heart of one of Bangkok's most desirable areas with easy access to everything you can imagine and with a superior facility that meets the needs of living in a very chic and different society.; and a 'Sense of Me' means that every square meter of the development has been designed to reflect the identity and lifestyle aspirations of its residents.
For more information: www.raimonland.com/en/projects/residential/48/the-estelle-phrom-phong Please call 02-029-1888 or add Line @Raimonland
Source: PRESTIGE (Link : The Estelle Phrom Phong Delivers an Unprecedented Lifestyle (prestigeonline.com)