News and Activities
09 March 2023
Raimon Land wraps up The Art of Living art exhibition series with a display by renowned street artist Benzilla until March 27, 2023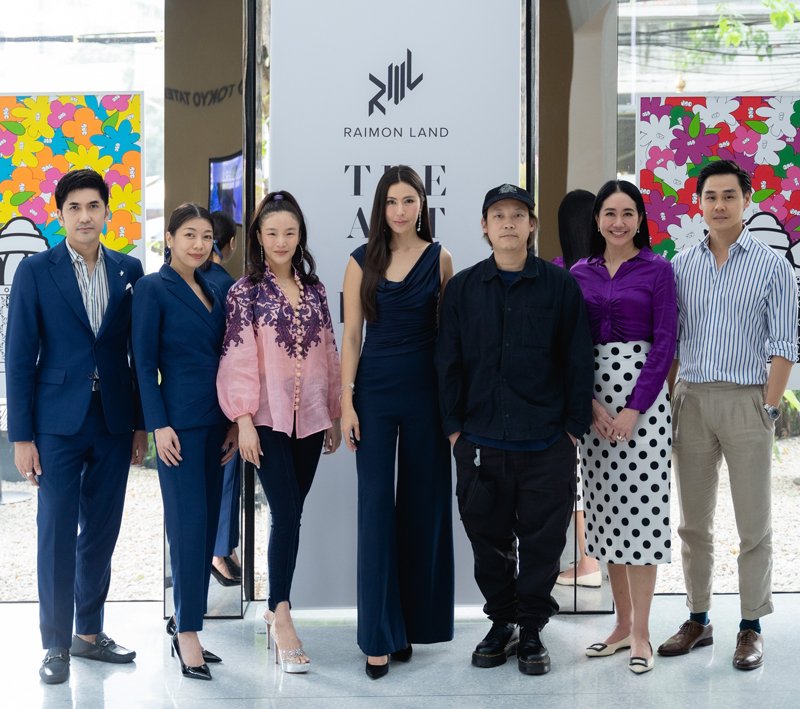 Parinya Sirisinsuk or (Benzilla) a well-known street artist based in Bangkok, has gained both domestic and international recognition with his own signature character LOOOK, a three-eyed alien created as a representative of enjoyment and enthusiasm by using vibrant colours. Benzilla was the first Thai artist to work with Swiss luxury watch brand Maurice Lacroix, with the Aikon #Tide x Benzilla Special Edition collection. Art lovers will be intrigued by the first time of the artist displaying ceramic sculptures in his exhibition, and the first time to produce and showcase this kind of a work of art at Tait Sathorn 12 sales gallery.
Korn Narongdej, Chief Executive Officer of Raimon Land Public Company Limited, revealed that March is the last month of the art exhibition series The Art of Living, which began in October 2022.
"The Art of Living has collected the works of artists in Thailand, displaying examples of their own unique style, and with some of the works newly created for the exhibition," he said. "Each of the exhibitions has had a very good response from people who love and appreciate art, including art collectors.
"This success reflects Raimon Land's intention to support the work of talented Thai artists and help them to become widely known, and in this way stimulating interest in Bangkok as a centre of art tourism. Displaying the creative work of Benzilla, famous as a street artist, is we think a surprise for art lovers, and an event not to be missed."
Benzilla says that the exhibition focuses on his character LOOOK, but there are highlights that have never been exhibited anywhere before. "One of these is a handmade ceramic pot. What is special is the card attached to the pot, which is combined with Augmented Reality technology to make the pot look alive. I feel that this especially will appeal to the new generation who are interested in technology and, at the same time, to works of art."
Benzilla's LOOOK ceramic sculptures displayed in The Art of Living are a limited collection with only 16 pieces. Those interested can ask for more information on the Benzilla Facebook page. The exhibition can be viewed from today and every day until 27 March 2023 at the sales gallery of Tait Sathorn 12, Soi Pramuan, from 09:30 to 18:00 hrs. This event is free of charge.
Tait Sathorn 12 is a high-rise luxury condominium joint venture between Raimon Land and Tokyo Tatemono Company Limited, a highly experienced Japanese developer. The project has an innovative sloping profile. Its single-corridor layout offers ample private space for owners, with vast corner units and special rooms with extensive balconies overlooking a lush sky garden. The condominium also comes with five-star facilities across six floors (2,000 sqm), including an amphitheatre lounge, sky gym, and non-chlorine filtration system sky pool. Additionally, Tait Sathorn 12 is a pet-friendly condominium with dedicated common areas.
Tait Sathorn 12 was designed with the following three senses:
SENSE OF SECURITY
A 24-hour security system with premium standard CCTVs and creating utmost privacy in a single-corridor layout.
SENSE OF COMMUNITY
Located in the heart of Sathorn 12 - 180 metres from Saint Louis BTS station, and with a superior facility that meets the needs of living in a very chic and different society.
SENSE OF ME
Every sqm of Tait Sathorn 12 was designed to serve the owner's needs. The Iconic Suite comes with a multi-purpose room that can be altered to the owner's lifestyle, such as a fitness, home office, or collector's display space.
Visit the art exhibition at the sales gallery of Tait Sathorn 12, Soi Pramuan from 9.30-18.00 hrs daily. For inquiries, contact 02-029-1888 or LINE Official @raimonland, and for more details please visit www.raimonland.com.